SAN FRANCISCO AND MARSEILLE—NOVEMBER 5, 2021—The first global network of citizen astronomers is joining forces with one of the oldest and most respected citizen astronomy organizations to galvanize cutting-edge research on major celestial events including the study of exoplanets.
Unistellar today announced a collaboration with the American Association of Variable Star Observers (AAVSO), a worldwide non-profit scientific and educational organization of amateur and professional astronomers who are interested in stars that change in brightness — known as variable stars. Through that citizen astronomy association, both communities will expand their exoplanet research, contributing to new findings about planets orbiting distant stars.
The collaboration  involves the establishment of an annual shared AAVSO and Unistellar "Exoplanet Pioneer Award," which will recognize the contributions of Unistellar citizen astronomers who have been highly involved in exoplanet transit research through activities such as advocacy, education, observations and/or beyond.
The first Exoplanet Pioneer Award has been awarded to Julien de Lambilly, for his work on the first Unistellar citizen scientist detection of an exoplanet, Qatar-1b in April 2020, several more exoplanet detections since, and volunteer efforts planning observations for other citizen scientists to foster participation in the early days of Unistellar's exoplanet program.
"'AAVSO and Unistellar share a mission – and a passion – to enable astronomy professionals and amateurs alike to participate in scientific discovery of critical space events." said Dr Stella Kafka, Chief Executive Officer, AAVSO. "Through the exchange of exoplanet transit targets and data, we can help facilitate exoplanet discovery and expand society's collective knowledge of these otherworldly bodies."
Going forward, the collaboration will enable exoplanet transit observation data from the Unistellar community to be easily published to the AAVSO Exoplanet database. These records are available for analysis by the AAVSO community, which includes amateur and professional astronomers, researchers, and educators.
Unistellar will be present at AAVSO's 110th Annual Meeting. Tom Esposito, Space Science Principal at Unistellar, will present a talk on exoplanet transits, co-signed with eleven members of the Unistellar network. Justus Randolph and Bruno Guillet, two citizen astronomers of the network, will also present an online poster about a transatlantic exoplanet transit they detected together.
"We are rejoicing that through this partnership our most active citizen astronomers will be recognized for their involvement and community spirit," said Franck Marchis, Unistellar's Chief Scientific Officer and Senior Planetary Astronomer at the SETI Institute. "We believe that the AAVSO collaboration will enhance the impact of the Unistellar Network to study exoplanets in the night sky anytime and from anywhere."
About Unistellar
Unistellar is the start-up behind the eVscope and the eVscope eQuinox, the most powerful and simple-to-operate digital telescopes that bring the wonders of the universe to life in seconds – even in urban settings. Thanks to a partnership with the SETI Institute, these game-changing consumer telescopes allow users to become citizen scientists and contribute to cutting-edge research on exoplanet transits, asteroid occultations, comets, and much more.
The Unistellar eVscope received a CES Innovation Award in 2018 in the category Tech for a Better World and was nominated for a SXSW 2019 Innovation Award. More than 5,000 digital telescopes are now operating in Europe, Japan, and North America, participating in an unprecedented observing experience.
About AAVSO
The American Association of Variable Star Observers (AAVSO) is an international scientific and educational nonprofit organization of amateur and professional astronomers who are interested in stars that change in brightness—variable stars. Its mission is to enable anyone, anywhere, to participate in scientific discovery through variable star astronomy. For more information, visit www.aavso.org.
Contact
For Unistellar :
Marissa Goldman, Bospar PR
+1 847.951.5715
For AAVSO
Lindsay Ward, AAVSO Communications Manager
+1 (617) 354-0484 x 100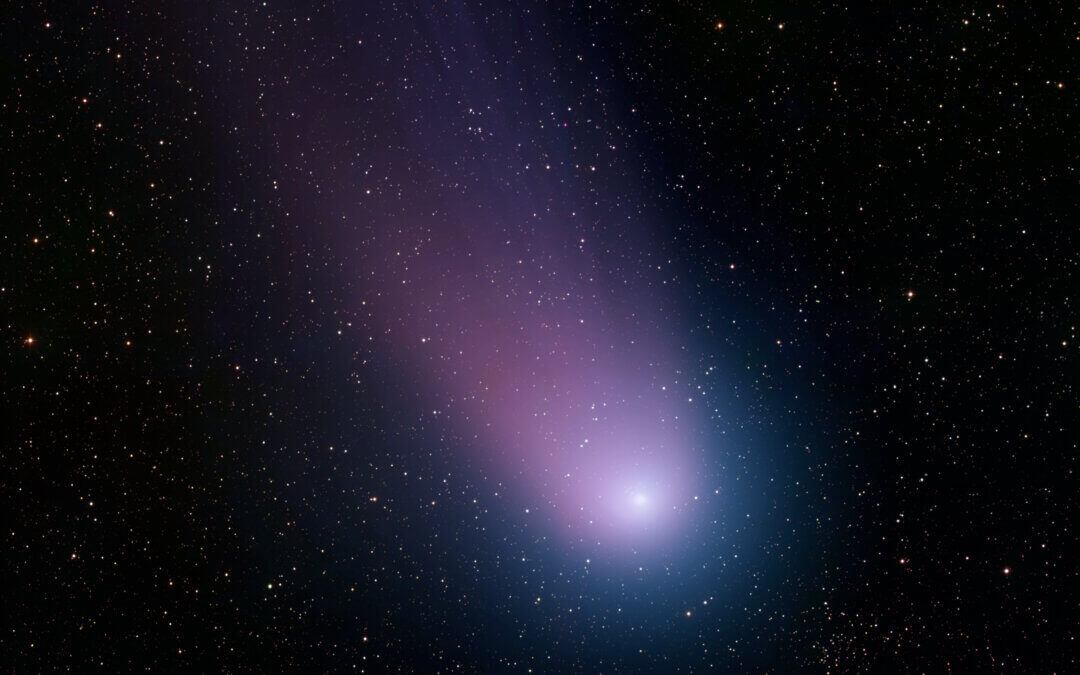 In March of 2022, astronomers discovered a comet from the outer reaches of the Solar System making its way toward the Sun. Called C/2022 E3 ZTF, the object will be passing by Earth in February, leaving a bright trail of gas and dust behind it.