Never been able to locate Orion or The Big Dipper? Enjoy a unique night photography experience and identify constellations and planets in your own photos at the touch of a button with Unistellar's latest free astrophotography app for iOS
MARSEILLE AND SAN FRANCISCO, July 6, 2022 – In its latest display of commitment to improving accessibility to the wonders of the universe, New Astronomy disruptor Unistellar has today launched updates to the Nocturne app (Nocturne V2) for iPhone, empowering users to identify constellations, galaxies, nebulae, planets and more in their own night photos within seconds. Nocturne now not only leverages dark sky proprietary image processing technology to deliver breathtaking imagery of the night's sky, but it tells you what you are looking at, too!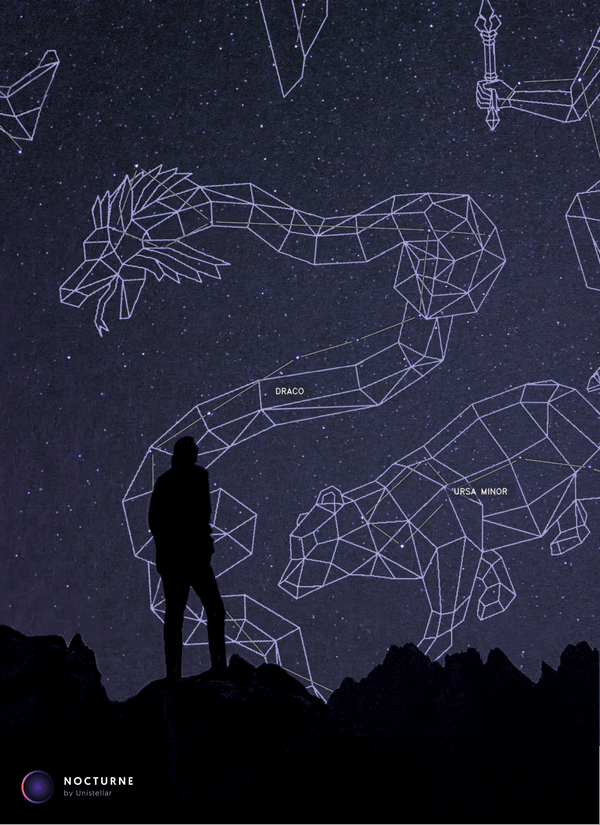 By selecting various viewing options from the 'Overlay' tab in the app, Nocturne V2 empowers users to improve their knowledge of the star-scape and learn to identify deep-space objects. Users can, via their smartphones, take their own out-of-this-world images, and Nocturne V2 will reveal constellations,  and distant galaxies and nebulae, as well as identify the locations of planets from our solar system.
Autonomous Field Detection technology, taken from Unistellar's world-leading smart eVscope telescopes, turns your phone into a mini astrophotography telescope, able to recognize the astronomical objects in its field of view. Better yet, the app is completely free of charge, and new features even include the option to share images with friends and loved ones all over the world, bringing us closer together through the beauty of Earth's nightscapes.
"We are incredibly excited to be launching the latest version of the Nocturne app. It is our goal to always be thinking of ways to improve education and access to the night sky – for all – and we are proud of what we have achieved with this project." says Arnaud Malvache, President and founder of Unistellar. "Being able to not only photograph the stars but identify which constellations and astronomical objects you are capturing in your own pictures is another way to increase our knowledge and understanding of what lies beyond Earth."
About the Nocturne app
You can download Nocturne here.
How to use Nocturne:
Once Nocturne (available free of charge in the Apple Store) is installed on your iPhone, capturing stunning images of the sky after dark could not be easier:
Step 1: Identify a beautiful nightscape to photograph.
Step 2: Stabilize your iPhone using a tripod or by resting your device on a solid surface.
Step 3: Launch the Nocturne app.
Step 4: Take the picture (duration from 1 to 4 min).
Step 5: Through the Overlay menu, you can now add constellations, planets, and deep-sky objects on your own picture.
Media Contact
For North America: Bospar PR
Greg Hasser, [email protected]
+1 313.373.4976
For Europe: Liberty Communications PR
unistellareurope@libertycomms.com
+ 44 207.751.4444
About Unistellar
Unistellar, the pioneer of New Astronomy, is the company behind a new category of telescopes, the eVscopes.
The eVscopes are the world's most powerful and simple-to-operate smart telescopes, which allow them to bring the wonders of the universe to life in seconds—even in light-polluted urban settings. Thanks to partnerships with renowned scientific organizations like the SETI Institute and AAVSO, these game-changing consumer telescopes even allow users to become citizen scientists enabling them to contribute to cutting-edge research on exoplanets, asteroids, comets, and much more.
Unistellar received 2 CES awards: A CES 2022 Innovation Award in the Digital Imaging category for the Unistellar eVscope 2 and a CES Innovation Award in 2018 in the Tech for a Better World category for the Unistellar eVscope. The eVscope was also nominated for a SXSW 2019 Innovation Award.
More than 10,000 digital telescopes are now operating in Europe, Japan, and North America, participating in an unprecedented observing experience.
Put the hot chocolate on, bundle up and get outside this December for some holiday stargazing, with picks from Unistellar like the aptly-named Christmas Tree Cluster.