Using data from Unistellar Citizen Astronomers, scientists at SETI have put together multiple Super Images of Comet C/2017 K2 PanSTARRS, which passed by Earth this July. These super-detailed images are created by combining data from dozens of observers across the globe. In addition to producing spectacular images of Comet K2, the data submitted by Citizen Astronomers allowed scientists to create a detailed light curve they can use to study how the comet changes over time.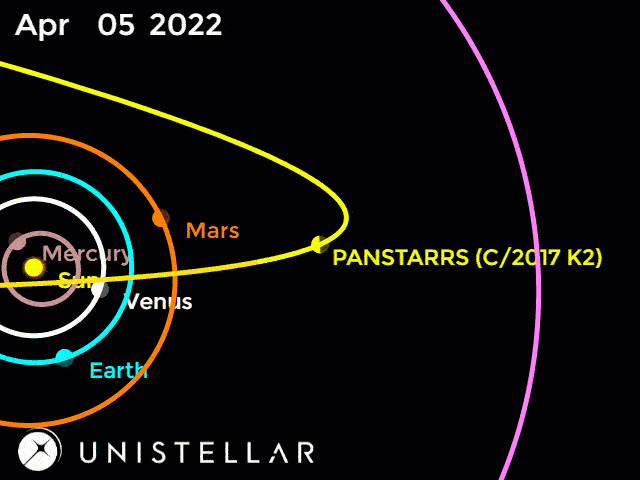 Comet K2 was found in 2017 as it hurtled inwards from the Oort Cloud, a distant part of the Solar System filled with comets and asteroids. The comet's body began to sublimate, or turn from ice into gas, farther away from the Sun than almost any comet seen before. That created a massive coma, or dust cloud, surrounding the comet, which made it highly visible from Earth. Therefore, K2 became an exciting target for the Unistellar Network, especially as it made its closest approach to Earth on July 14.
Surrounding the close approach, 70 Unistellar Citizen Astronomers observed Comet K2 from locations around the world, including Japan, Oceania, North America and Europe. Over 4 nights, the Citizen Astronomers submitted enough data for eight separate Super Images, each of which is made from multiple individual observations and is far more detailed than a regular picture.
These high-quality images are allowing astronomers to observe how the comet's brightness changed as it approached the Sun. These changes provide insights into how Comet K2 evolved during its inward approach, and allow us to better understand what was happening to it as the Sun warmed its surface. This data will also help astronomers anticipate how future comets will behave as they get closer to the Sun, making comet predictions even better.
The eight Super Images made possible by Citizen Astronomers around the world. Click on each panel to see the full image!
Observe Comet K2 with your Unistellar Telescope
Though Comet K2 is heading away from Earth, never to return, it's not too late to see it! The comet will be visible with your Unistellar Telescope until April 2024, so you have plenty of chances to catch a glimpse. Here's how to find Comet K2:
Put the hot chocolate on, bundle up and get outside this December for some holiday stargazing, with picks from Unistellar like the aptly-named Christmas Tree Cluster.